About Me
My name is Janet Melody and I trained as a coach and theta practitioner to assist others to live from the heart and not just from the head.  To guide others in becoming a conscious inner beauty that shines and lights up the world.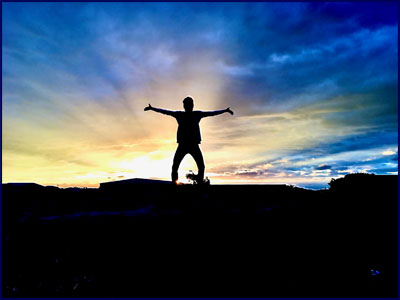 How my journey toward becoming a conscious inner beauty began?
I have always sensed energy that surrounds us all, it's flowing in a way that either supports or hinders us. When we are in flow we are following our heart and when life is a struggle we are going against our natural way of being.  When you listen to those inner callings, your intuition something wonderful happens, life starts to unfold in miraculous ways.
How do I know this to be true?
Well, I lost my father when I was a teenager and when he died something in me died too.  I started to see life in a very negative way, it was as if my view of the world became grey and I could no longer see any colour.  I knew this wasn't my natural way of being because as a child I was happy, I loved singing, drawing and creating.  But when my father died, I stopped doing those things I loved, I went into my head and ignored my heart.  Everything about my life was analysed and every day became a struggle, it was in this darkness that I started to look for the light.
I have always been searching for a deeper meaning to life, to heal my own sadness and loss of purpose. It was during this search than I began reading many books on self-improvement, spirituality, and science-based healing. I trained in Reiki, Theta Healing and NLP (Neuro-Linguistic Programming), I took courses in EFT (Emotional Freedom Techniques) and learned about nutrition to find a holistic approach to healing everyday life issues. I have a Level 5 Diploma in Performance Coaching with NLP and I am constantly researching new methods, modalities, and developments in science, spirit, health, and motivation.  All of this focus is to find the core for being; Why are we here? What helps us live better and feel better from within?  What makes us happy and why are so many of us unsatisfied with our lives? It has been a long search, but a very rewarding one, I've learned so much about life and what makes us happy. At the end of the day, happiness is unique for everyone and everything you need is within you. You have all the answers to all your problems and I can help you find those answers.
Today, I am coaching, healing and helping others to open up to their own wisdom and live a conscious inner beauty journey of fulfillment and joy.  I am following my heart's desires and everyday life is getting brighter and brighter. Seeing someone light up when they talk about their own passions is what motivates me to assist them in fully realising their dreams. Many of us dream about our passions but sadly very few of us actually live them.  This to me is a great tragedy and it must stop.  We all have dreams within each of us and no matter how small you start those deep inner yearnings must be realised if you want to feel true joy, happiness, and love.  Don't ignore the callings, listen to what your heart is calling you to do and take action.
My Passion
My passions are photography, writing, art, and music.  My inspiration comes from nature and spirituality.
I am a trained graphic artist and have created logos for local businesses. I also love using acrylic paints, creating patterns and abstract designs that take the viewer on a journey of imagination. I have had my work displayed in local galleries. You can view my artwork on my Facebook page 'Janet Melody Art' at www.facebook.com/janetmelodyart
I am the author of the ebook 'Elementals: A Spiritual Exploration' which is all about our connection to the elements Air, Water, Fire, and Earth.  I use both words and imagery to convey the messages given to us by nature.  My hope is that it will take the reader out of the world of busyness and into the world of tranquility, the great outdoors, the place we can all find immediate calm and grounding, where we are truly ourselves, unhinged and connected. You can purchase my book on Amazon and see more information in the 'Resource' section on this site.
Fun Facts About Me
In 2000 I gained a Bachelors's Degree in Leisure and Tourism Management as I love to travel and have lived and worked in America, Canada, and New Zealand.
In 2011 I became a Wellness Advocate for doTERRA Certified Pure Therapeutic Grade Essential Oils after experiencing the amazing benefits to not only myself but also my friends and family. They transformed my health and I want to share with others just how potent, pure and supportive they can be to the mind and body.  
I have had a personal meeting with Tom Cruise on the set of Mission Impossible, I sang with Bryan Adams on stage in Swindon and met Matt Goss from the UK eighties boyband Bros at a private function....dreams truly do come true!