Nutrition
Nutrition is so important if you want to live a long and healthy life.   As you know it is recommended that we eat at least 5 whole foods a day and many of us still find this a challenge.  The conventional diet is full of processed foods that leave us depleted of vital nutritional support.
I have been searching for the perfect diet and program for most of my life.  It has been a long arduous search for a diet that worked until I finally realised that, 'DIETS DON'T WORK'.  Many diet plans out there leave you feeling hungry, deprived, and obsessed with food and calorie counting.  I have always looked at health from a holistic viewpoint and wanted something that melts into my lifestyle and doesn't take away from my purpose in life. It took many trial and errors to find something to fit into my life until I fell upon a group online called 'The Soul Project'.  They are on a mission to help individuals with their mind, body, and soul.  They believe in a lifestyle that encompasses all these elements and in their project they include the support of these wonderful supplements called Juice Plus.  Have you heard of Juice Plus?  Well, let me give you a brief overview.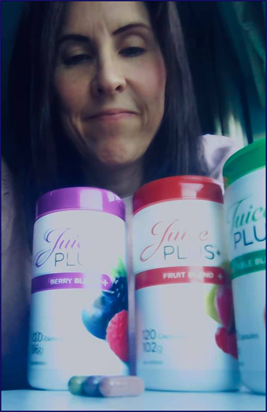 What is Juice Plus+®?
To be healthy, your body needs a range of valuable nutrients, as I mentioned above and you need to eat a balanced diet that includes a varied selection of fre

sh fruits and vegetables. Because that isn't always so easy to do every day, Juice PLUS+ has concentrated the best bits of 30 types of fruits, vegetables, and berries in capsule form so you can now get the benefit of valuable phytonutrients, vitamins, and minerals. You will also be optimally supplied with powerful antioxidants that are important for your well-being.
Now, I was skeptical too until I tried them.  I had suffered from chronic indigestion for years.  I would take my essentials oils to elevate the symptoms but it wasn't long until the dreaded bloating, constipation and acid reflux would begin to emerge again.  I'd had digestive problems for so long, I thought it was normal for me to be this way.  However, after being on these capsules for over 8 months I can say, with absolute confidence today, that my internal health is processing as it should and I feel so much better.  No more continuous bloating, constipation, or intestinal pain, I am relieved to write.  They have transformed my health and the team at 'The Soul Project' has been a huge support in my journey to becoming a healthier person. I feel better inside and have started to eat more wholefoods in my diet and have started to take better care of my nutritional heatlh.
I am committed to supporting individuals on their mission to becoming healthy and in living a purposeful life.  To learn more about my Soul Project journey you can join my Facebook group here: 

JANET'S SOUL PROJECT JOURNEY
You have the chance to TRY JUICE PLUS+ - the next best thing to fruits and vegetables, and join me on my mission to Inspire Healthy Living around the world.
For a specialist program to suit your needs please CONTACT JANET and let's get you started on a plan that will last a lifetime.