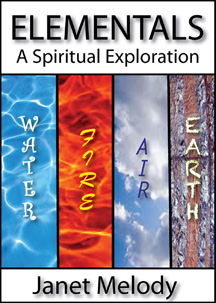 Elementals: A Spiritual Exploration
An e-book about the wisdom of Water, Fire, Air and Earth and how they reflect so much about humanity and the lessons we can learn by delving deep into their energetic magnificence.
Book Reviews
"After reading this wonderful book on elementals my feelings towards love life and the planet rose to a higher plane I now understand that everything is linked. A great read and beautifully put together, once you start reading you cannot put down and the artwork compliments the literature."  Allan Lamb
"Janet's book is such a fantastic journey.  It encourages the power of reflection, prayer and meditation.   If you pick the book up for two minutes only,  it will touch your spirit deeply."
Sandra Kersey
"This book flows with energy and light as Janet takes the reader on a journey of discovery through her intuitive description of the elements and profound imagery.   Through the elements of Earth, Air, Fire and water, I am made aware of the inter-connectedness and inter-play of mind, body and spirit of which Gaia has control and profoundly influences our life-force.  More than ever, there is so much going on around us by way of intrusion and distraction.  Technology today has increased to such a level in our everyday lives that is changing the way we live and often goes against nature. Machines may enhance on some level but can never make us feel alive or replace what nature provides in real time.  Designed to bring us closer through instant communication, we become slaves to the screen.  The message of this book feels experiential and attempts to touch base with our divine source. Thank you Janet, your writing makes me want to leave the screen and just be….by a river or walking through a forest, taking in the sights and sounds and smells of the natural world that both heals and grounds me.  Like fresh air, I am invited to breath to be lost in imagery and art-work, reminding me who I am and to let go and re-connect with Gaia." Susan Wood MNCHM RS.Hom
"This book is so beautiful and written from the heart, portraying Janet's beliefs. The art work and photographs beautifully portrays the subject."
Pauline Messenger